"He was broken, but not defeated …"
Yamaha XJR1300 – Gladiator.
Each motorcycle has a history and character. Therefore, Sculpt-Moto team likes projects reflecting the identity and personality of the rider.
Yamaha XJR1300 owner contacted us for last summer for restoration works. Model XJR is the timeless classic bike with perfect shape and design. This model is still popular and fully satisfy the owners. The XJR owner usually ride this bike for many years. Unfortunately, this motorcycle was seriously damaged by the accident.
Together with its owner, we decided not only restore the motorcycle, but also to transform it into a beautiful, powerful, modern Café Racer. To improve it, paying attention to both technical and aesthetic aspects.
The motorcycle went through a complete restoration, modernization, exclusive painting and received also new details. This bike returns to the highways and now looks better than ever.
Color scale, painting and all details were carefully and delicately selected, aiming not only to improve the appearance, but mainly to reflect the individuality and unbreakable character. As a result, motorcycle was back to life with new airbrushing and sound (a new silencer was installed). To feel it you must hear the growl.
Final result is a stylish, powerful and modern Café Racer. Each of its lines and elements are accurate. New XJR motorcycle look by Sculpt-Moto is harmonious from "nose to tail". Also important that the new "Spartan image" retained the excellent functionality.
The motorcycle is very valuable to the owner and is invaluable for us, as we had put in our soul.
It is powerful, uncompromising, created to be a winner. He is again in the ranks, he is a GLADIATOR!
A little story of restoration and modernization.
The motorcycle was completely disassembled, even small screw was taken away. The front fork was straightened and cleaned, oil seals and bearings replaced, new oil was filled. Since the original engine was damaged, it have been replaced with a motor donor with the best parts from both engines.
Since many parts after the accident were damaged, we have installed new details: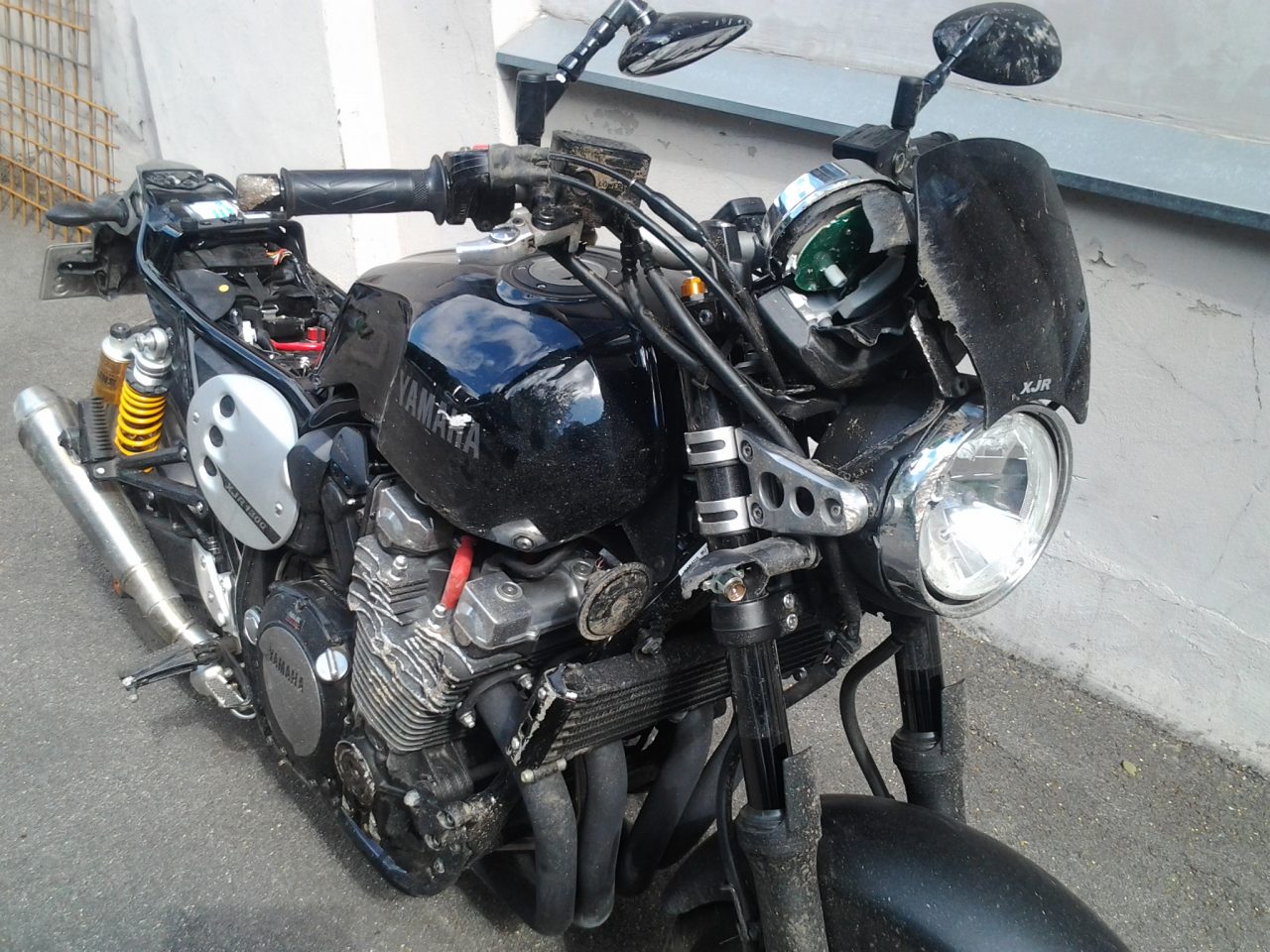 Adjustable ABM Clip-On,
ABM grips, clamps, brake and clutch levers,
Rizoma mirrors,
AceWell speedometer / tachometer and new handmade mounting bracket,
a new main headlight, headlight brackets,
turnsignals, LED taillights and license plate bracket,
protective gaiters on the front fork, the front fender was modified,
a new radiator grille was made,
new Avon tyres,
new HEL stainless steel brake lines,
removed standard plastic panels and made new metal side covers,
the airbox has been removed and new K&N filters have been installed,
a new SP-muffler and exhaust wrap,
new LSL footrest and new brake pedal,
handmade new leather seat,
handmade fiberglass tail following the contours of the frame,
and in the end, an exclusive airbrush that creates the individuality of the motorcycle, in the gladiator's armor style.
And also, a huge number of small details, imperceptible at first sight, but sometimes not least.  We made the special "click-on" system for the new removable fiberglass tail, so now the owner of the motorcycle is able to replace it to the standard seat to travel with the passenger.
The project have been implemented within 4 months. We completely changed the appearance of the motorcycle and now it has a unique style, unlike the others.
The Sculpt Moto team had invested a lot of time and effort to this motorcycle project, as result we created absolutely new machine.